With the ransomware industry booming with the rise of cryptocurrencies like bitcoin, traditional anti-virus companies are struggling to keep up with the dynamic tactics malware authors are using.  Traditional viruses infect your PC and monetize it through a range of malicious activity.  Loading intrusive popups, injecting their ads into websites you visit, or stealing your credit card information are some of the more common themes virus writers have taken over the years.  However, with the emergence of cryptocurrency, malicious actors are starting to lock your computer files and demand a ransom payment to unlock them.
Much of the anti-virus industry is stuck in their old ways of logging the unique finger print of malicious files into a database and using that database of malicious files to detect and find malware.  The problem with these methods is they require the anti-virus company to first identify and then log the malware.  This means that someone, somewhere must inevitably become infected before the virus is identified.  With the rise of ransomware, iterations of new malware are coming out faster than anti-virus companies can manage.  Some strains of malware are designed to change their unique fingerprint automatically on a daily basis to avoid detection.  Since these infections can be extremely costly, it's important to find ways to identify new ransomware without it first infecting a computer.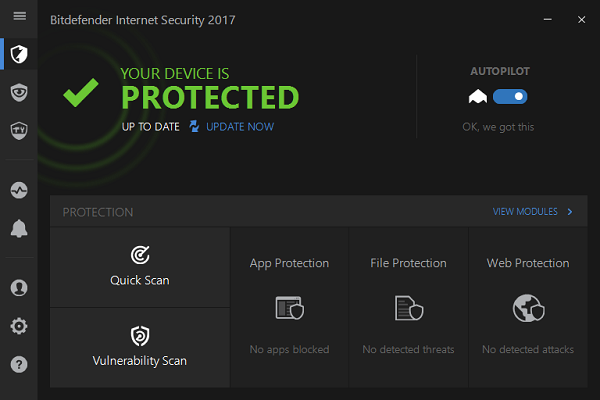 Because of this, companies like Malware Bytes and Bitdefender have started releasing products that are specifically geared towards ransomware threats.  Instead of building large databases of known malware, these companies are pioneering technologies which seek to identify the overall behavior of ransomware so they can more easily defend against new malware which has not been identified in the wild.
With advanced behavioral monitoring, products like Bitdefender are constantly analyzing the running processes on your machine looking for suspicious activity which is generally associated with ransomware.  By analyzing the behavior of ransomware instead of the signature or fingerprint of a particular strain, Bitdefender is able to identify and protect against ransomware a stunning 99% of the time, even if the threats were previously unidentified.
These next generation anti-virus products which use machine learning and artificial intelligence to gather and collect data about ransomware are essential to creating a secure environment for your data.  Because these threats are so new, many of the biggest names in anti-virus have not yet incorporated them.  While in the past these big brands have been the most effective at stopping viruses, it's important for businesses to shop around and modify their habits in today's fast changing environment.  At VirTek, we have partnered with some of the most effective companies which are leading the way in anti-ransom technologies.